[EAASIS] 외국인 유학생을 위한 한국취업 특강 / Special Lecture for Successful Employment in Korea for International Students
국제학생팀에서 한국취업에 관심 있는 유학생들을 대상으로 한국취업 특강을 개최합니다.
1차: 5월 3일(월) / 2차: 5월 17일(월)
모든 강의는 녹화되어 e-class에 게시됩니다.
다시보기를 원하는 학생은 isat_eaasis@naver.com로 신청하시기 바랍니다.
International Student Affairs Team is holding special lecture for internaitonal students, who are
interested in jobs in Korea or planning to get a job in Korea.
There are two parts, first on May 3 and second on May 17.
All sessions are recorded and uploaded to cybercampus(e-class).
If you would like to watch those again or join in e-class, please inquire at isat_eaasis@naver.com
※신청 Registration
(1회차-5월3일(종료)) http://naver.me/FGo88inD
(2회차-5월17일) http://naver.me/IgT0ytMA
※문의 Enquiry: isat_eaasis@naver.com (국제학생팀 EAASIS 담당)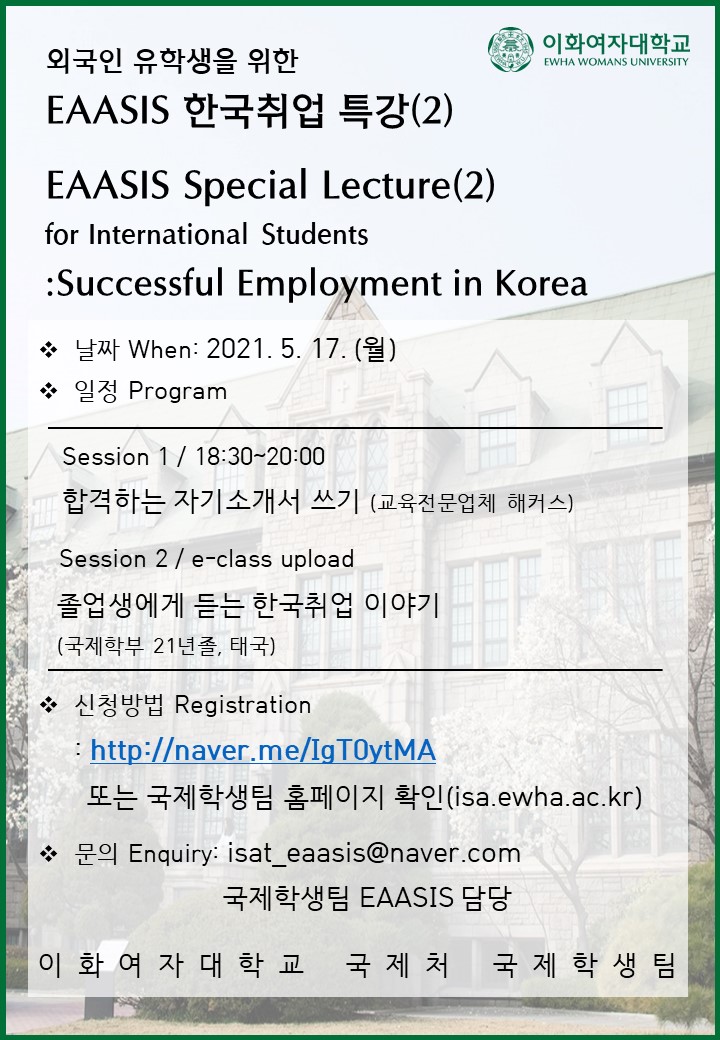 Attachment

There is no Attachment
다음글

[학위과정유학생]2021여름학기 토픽준비반 수강료 지원안내 Support for 2021 Summer Semester TOPIK Prep course fee 2021夏季TOPIK准备班学费报销通知

국제학생팀

2021-05-03 11:34:06.0
이전글

수업 운영 및 출입통제 변경 안내 (4. 19~) / Changes in Class Operation and Access Control (From April 19th ~) / 授课方式及校园出入管制规定变更通知(4月19日起)

국제학생팀

2021-04-16 11:27:04.0